Integrity Software Wins Construction Accounting Product 2017 for Evolution M
Integrity Software are pleased to announce the win of Construction Accounting Product of the Year 2017 for Evolution M. The Construction Computing Awards, affectionately known as The Hammers, recognises technology solutions and their use in the construction industry. Evolution M is an industry specific accounting solution providing full contract management for businesses of all sizes and types across the UK and Ireland.
Sophie Hurst, Managing Director at Integrity Software commented on the achievement "This award is extra special as it is voted for by our customers. We have a core business philosophy of long term commitment to customer service, coupled with providing the best possible solutions to our customers. I am so proud of my whole team, we couldn't have won without the hard work put in by everybody."
Winning the Construction Accounting Product of the Year wasn't the only success for the team on the night. Estimate Software (part of the JDM Technology Group) were runners up for the Estimating and Valuation Product of the Year 2017 with their product esti-mate.
To find out more about our award winning software, call the team on 03543 403040 (UK), +353 (01) 435 8531 (IRE) or contact us here.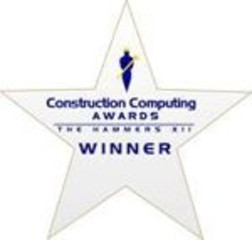 About Integrity Software
We have been providing construction software solutions to UK and Irish construction businesses for more than 40 years, and our fully-integrated construction accounting software is used by more than 1,000 leading construction businesses.
Book your online demo
Complete the form below and a member of our team will be in touch to book you an online demonstration of our software.