3 Easy Ways to Maximise Productivity with Evolution Mx
It's a simple fact that the businesses which regularly perform better are those that have a better understanding of their position. Being able to see a project in full helps inform decisions made throughout its lifecycle. However, errors in documentation or calculations can have a ripple effect that ultimately impacts your profits or means you lose favour with your supply chain.
In this post we will look at three ways in which our construction-specific accounting and management software Evolution Mx can help ensure that you are managing your data effectively and maximising the productivity of your staff.
Using Dashboards
During the day-to-day running of your business, the accessibility of your data and the ability to see your position "at a glance" can prove invaluable. Whether you need to stay on top of purchase orders or see when an invoice is received, having an easy-to-understand visual representation thanks to the Dashboards functionality of Evolution Mx can change the way you work.
Easy to set up and configurable for each user, dashboards allow you to get a snapshot of your vital information in an easy-to-read format, from the moment you log in.
We also understand that your staff might each have a variety of operational responsibilities, but because of the fully integrated nature of the software, users can mix and match dashboard tiles from different sections with Mx, offering unparalleled flexibility and clarity.
Ensure Good Communication
The most successful businesses know that productivity is impacted not only by people interacting with data, but with each other as well. The construction industry is unique regarding the truly vast quantity of paperwork that must be regularly processed and signed off, however because Evolution Mx is designed with the construction industry in mind it helps ensure there is just one version of the truth.
Our Invoice Register module is not only invaluable for automatically capturing digital invoices sent directly to your email, but it's "Sticky Notes" feature helps facilitate clear communication between colleagues, aided by the fact that all correspondence regarding each individual invoice in stored one place.
Automate Your Processing
Much like having to deal with a breakdown in communication, staff having to manually process invoices and track costs greatly impacts their productivity. Evolution Mx allows intelligent tracking of invoices and other documents, alerting you of upcoming expenditures, new request submissions and more.
Far more than just tracking and digitising, the Invoice Register module speeds up processing even further with the option OCR add-on.
As soon as it arrives the system automatically scans invoices and populates the fields, including the supplier code (based on the supplier's VAT registration number), date, total Goods, VAT, reference and PO number (if applicable). Where the system has accurately identified all of these fields, you can expect to save around 5 minutes per invoice, adding up to a huge saving on overheads.
Summary
It's no secret that productivity is directly linked to profitability, but it's important to take the right steps and implement changes that support your staff's efficiency, instead of simply pushing for improved performance via speed. If you are interested in learning more about how Evolution Mx can help boost your productivity reach out to us here and book a free personalised demo today.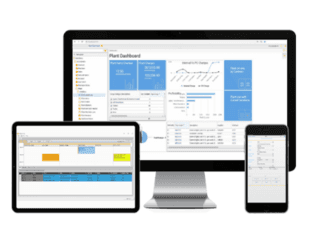 About Integrity Software
We have been providing construction software solutions to UK and Irish construction businesses for more than 40 years, and our fully-integrated construction accounting software is used by more than 1,000 leading construction businesses.
Book your online demo
Complete the form below and a member of our team will be in touch to book you an online demonstration of our software.