Construction start-up set up for success with Evolution Mx
LEAN Projects Ltd become the latest construction start-up to set themselves up for success with our award-winning construction-specific accounting and management software, Evolution Mx.
Lynne Jarman, Accounts Manager, had previously used one of our legacy systems FBS, and invited us to present our newest platform, Evolution Mx, to new construction start-up LEAN Projects.
Already being 5 weeks into a key contract and processing everything manually meant the team needed to get a system implemented very quickly, and were considering Evolution Mx and Sage.
From their initial enquiry we were able swiftly to set up a number of online demonstrations to show the team the different elements of our Evolution Mx system, and demonstrate how the functionality would enable them to be more efficient, productive, and ultimately profitable.
LEAN Projects will benefit from a fully integrated job costing system, no longer relying on a raft of manual spreadsheets, and instead recording costs at source when invoices are processed.
Plus, with Business Analytics, the team can create their own real-time dashboards to get access to key information on costs, budgets, subcontractors and more quickly and easily.
Martin Jackson, Account Manager at Integrity Software, said: "We're delighted to welcome Lynne back to the Integrity Software family, after having used our legacy system FBS a number of years ago. We look forward to supporting her and the LEAN Projects team for years to come with our construction-specific platform."
If you would like to see how our construction-specific software could take your business to the next level, please book your demo today.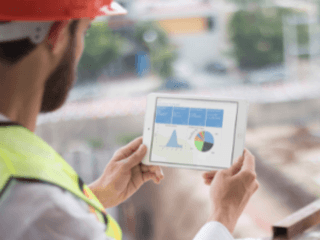 About Integrity Software
We have been providing construction software solutions to UK and Irish construction businesses for more than 40 years, and our fully-integrated construction accounting software is used by more than 1,000 leading construction businesses.
Book your online demo
Complete the form below and a member of our team will be in touch to book you an online demonstration of our software.