Trader
Whether you're a building, plumbing or timbers merchant, a hardware or DIY store, our Trader point of sale system has been designed to improve your businesses sales and back office processes.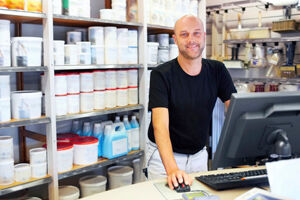 Point of sale software designed specifically for builders merchants, plumbing merchants and hardware stores
In a competitive retail marketplace it is essential to maintain a high quality and consistent service to achieve customer satisfaction and build loyalty. This can be achieved through providing a reliable and efficient service when producing quotations, managing stock and processing orders.
Discover Trader; our point of sale software with built in accounts
Trader from Integrity Software is a flexible electronic point of sale software (EPOS) system which offers a complete financial management solution allowing merchants, wholesalers and distributors to efficiently produce quotations, process orders and manage stock within a full accounts package whilst ensuring profit margins are maximised. Trader also provides an entry level point of sale system for smaller businesses which is designed to grow as your business expands.
Find out more
Contact us to find out more about our point of sale system designed just for building,
plumbing and timber merchants, hardware and DIY stores in the UK and Ireland.